Benefits of Porcelain Veneers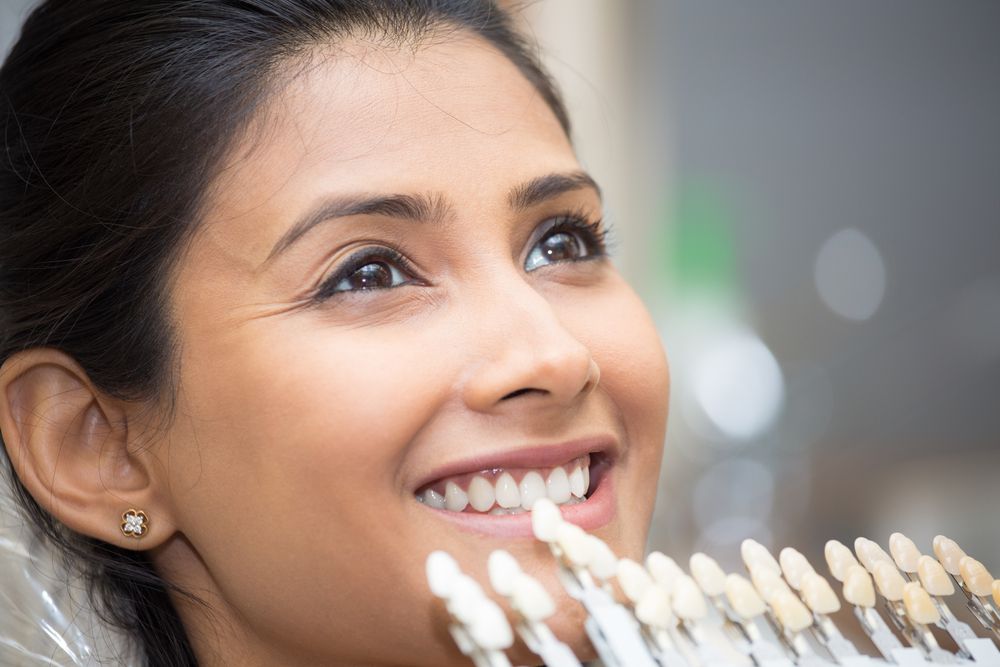 If you look in the mirror and are dissatisfied with your smile, you certainly aren't alone. Many of us have hang-ups about the appearance of our teeth for one reason or another, and the effects of these can range from mild to dramatic. Those people who really feel embarrassed or ashamed about the way their teeth look regularly do everything possible to avoid showing them in public, from covering their mouth with their hands when they speak or laugh to smiling with a closed mouth. Some even feel that their teeth have prevented them from finding a personal relationship or have held them back at work.

Thankfully, there are now more ways in which patients can transform the appearance of their smile than ever before. These are known as cosmetic dentistry treatments and procedures since they are primarily intended to improve the way that your teeth look. Porcelain veneers are just one type of cosmetic dentistry procedure that is enabling countless patients to improve their smiles.
What are porcelain veneers?
Porcelain veneers are thin covers that are placed over the enamel on the outside of your teeth, so that they cover any imperfections underneath. It is possible for a single veneer to cover just one damaged or discolored tooth, but in most cosmetic cases, patients opt for a full set. Each individual veneer is custom-designed specifically for each patient, so it fits perfectly over the top of the natural tooth, enhancing the smile rather than changing it entirely.

Each veneer is applied one at a time and secured using special adhesive. Once the entire set is in place, any discoloration, stains, chips or cracks in your teeth will be completely hidden. Your teeth will be uniform in shape, size and thickness and sit flush together. Better still, since porcelain veneers can also close any tiny gaps which may have opened between your teeth, bacteria can be prevented from getting between them and causing decay and periodontal disease.

The entire porcelain veneer process is minimally invasive, with just a little of your natural enamel needing to be filed down so that the veneer sits perfectly. This is done using a local anesthetic, so you will not experience any pain.
Why choose porcelain veneers?
There are many different reasons why porcelain veneers are gaining in popularity among patients who wish to transform the appearance of their teeth. Regularly-cited reasons include:
Brighten your smile
One of the best things about porcelain veneers is that they can be crafted in a variety of different shades. For this reason, it is particularly popular among patients who have found teeth whitening to be unsuccessful. If you are receiving a single veneer, you can choose a shade close to that of your natural teeth, offering you the ultimate discretion. However, if you are having all of your teeth covered, you can choose to brighten your smile to the shade you desire.
Stain resistant
If you are enjoying a brighter, whiter smile you inevitably want it to stay that way for as long as possible. Fortunately, porcelain is highly resistant to staining that is usually caused by exposure to nicotine, coffee and other products containing tannins. This means that if you choose to invest in veneers, you can enjoy a more attractive smile for longer.
Protects your natural teeth
Our teeth may be fairly resilient, but they certainly aren't infallible. Placing a porcelain veneer over your existing enamel can help build strength and protect your natural teeth.
No recovery time
Unlike many types of cosmetic dentistry, since veneers are minimally invasive there is no downtime required. Once your new veneers are in place you can head out and start sharing your smile straight away with no discomfort.
Improved confidence in your smile
Patients want and deserve to feel happy and confident, and by transforming your teeth with porcelain veneers, you can be sure to feel much more confident in the appearance of your smile.
Long lasting result
Despite looking extremely fragile, porcelain veneers are tougher than you expect. Studies have shown that they last much longer than many other cosmetic dentistry solutions – up to 15 years!

Don't live a life where you are afraid to smile. Contact us today to find out more about porcelain veneers or any other type of cosmetic dentistry treatment at 732-312-1300.