Dental Implants Provide a Stable Base for Crowns, Bridges, and Dentures
Dr. Donald Cadle provides restorations for dental implants at our New Port Richey, FL, dental practice. While he does not perform the implant surgery himself, the doctor can help patients determine if they make a good candidate for the procedure, and refer them to reputable, trustworthy oral surgeons in the area. If you have lost teeth due to decay, gum disease, or trauma, dental implants will provide a sturdy anchor for restorations, such as crowns, bridges, and dentures. Dr. Cadle will help you determine which restoration will work best for you.
What Are Dental Implants?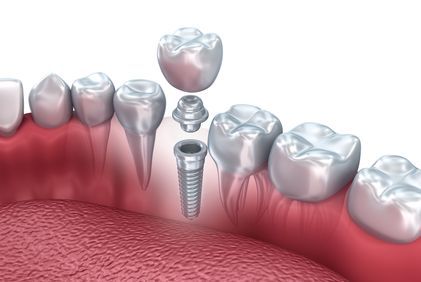 A crown will completely cover a damaged tooth, restoring functionality and preventing additional damage. Popularly known as a "cap," this type of restoration will match the shape and color of your natural teeth. Dr. Cadle may recommend a crown if you have a cracked or weakened tooth. He can also use a crown to restore an infected tooth or a tooth with a very large cavity. In a few cases, he may suggest this type of restoration if you have a tooth with severe cosmetic flaws.
To place a crown, Dr. Cadle will reshape your tooth. He will remove damaged or decayed material, and he will also make a more secure base for the restoration. He will send impressions of your tooth to a lab, our trusted partner for the last 35 years. The technicians can use several different materials to create your crown. If your crown is for your front tooth, they will typically use porcelain ceramic. If it is for a back tooth, they can use porcelain ceramic or gold. It will usually take between ten days and month to complete your crown. When it is finished, Dr. Cadle will check the fit and attach it to your tooth.
The Placement of Dental Implants
Having implants placed requires careful planning and multiple procedures performed over the course of seven months or longer. This process begins with a consultation with Dr. Cadle. The doctor will review your medical and dental history, as well as any medications you currently take. He will then perform a complete oral exam to ensure that no other dental issues need attention before placing the implants. Dr. Cadle will assess the density of your jawbone, the most important factor in qualifying for dental implants, during his examination. If you have low density in your jawbone, you may have to undergo a bone graft or a sinus lift before receiving dental implants. When the doctor has decided that you make a good candidate for implants, he will create a comprehensive treatment plan, covering everything from anesthesia to recovery plans, and refer you to a local oral surgeon for implant surgery.​
"While he does not perform the implant surgery himself, the doctor can help patients determine if they make a good candidate for the procedure, and refer them to reputable, trustworthy oral surgeons in the area."
When you arrive for your surgery, your oral surgeon will make you comfortable and begin administering anesthesia. Next, the doctor will surgically place the implants in your jawbone. For a single crown, the surgeon will place just one implant, while a full denture may require four to six implants per arch. You will receive a temporary restoration to wear while you heal. The implants typically take three to six months to heal, during which time the implant and bone will fuse together, creating a solid foundation for your new teeth. While your jaw heals,Dr. Cadle will forward his design for your restoration to a reputable U.S.-based dental lab for fabrication.
When your implants have fully healed, you will return to our office one more time. Dr. Cadle will expose the implants from under your gums, and attach tiny connectors to them, called abutments. For patients receiving a dental crown or bridge, the doctor will use a dental adhesive to permanently bond the restoration in place. Dentures, on the other hand, can simply snap on and off of the implants, and patients can remove them for easy cleaning. The doctor will check the fit of your restoration, making any necessary adjustments, and will ensure proper occlusion. When the doctor feels satisfied with the placement and fit of the restoration, you can leave our office with a completely restored smile.
Contact Us for a Consultation
If you would like to learn more about dental implants and whether they are suitable for you,contact our office to schedule a consultation with Dr. Cadle. He will carefully assess your smile to determine your candidacy.
What are dental implants?

Dental implants are the latest method of replacing teeth that are missing or require extraction. They are made of three key components – an anchor, which looks like a screw, that is inserted into the jawbone, a crown that acts as a replacement tooth, and an abutment that secures the two together.

Read More